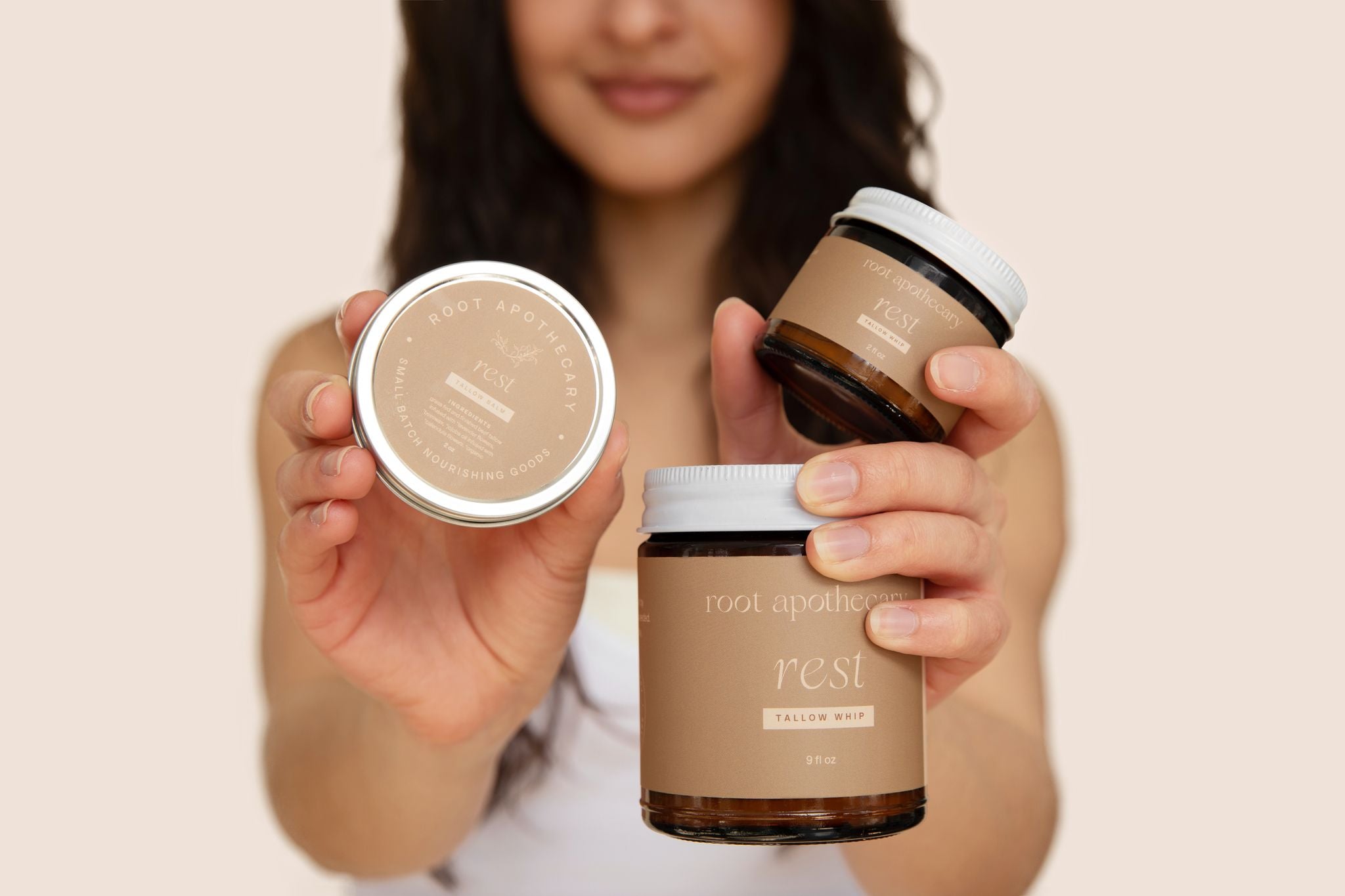 Description

Benefits

Ingredients

Disclaimer
Indulge your senses and soothe your skin with our flower-infused Tallow Whip. Lavender creates a calming effect while tallow, and jojoba repair and hydrate your skin. Calendula is a versatile skincare ingredient known for its anti-inflammatory, wound repairing, and antioxidant properties. It soothes irritated skin while offering protection from free radicals.  
Use Rest Tallow Whip as a moisturizer for the body and face, a makeup remover, or for multiple other skin concerns including diaper rash, eczema, tattoos, cuts and scrapes, burns, scars, itchy skin, dry skin, sunburn, psoriasis, rosacea, acne, stretch marks, itchy pregnant belly, and chapped lips/nose.
Method: Gently massage a small amount into your skin in a circular motion. Tallow will melt and absorb effortlessly. 

scent 
Calming and subtle scents of lavender and calendula
This all-natural whip is rich in vitamins A, D, E, and K. Vitamin D help keep your skin smooth by promoting cell turnover, while vitamin A stimulates collagen production, improving skin elasticity. Vitamin E is an antioxidant that fights off free radicals that cause signs of aging, and Vitamin K promotes wound healing and diminishes bruising.

This versatile, anti-inflammatory product delivers calming nourishment without discrimination.
grass fed beef tallow infused with organic lavender flowers, organic jojoba infused with organic dried calendula flowers
Statements made on this website have not been evaluated by the Food and Drug Administration.  No product on this website is intended to diagnose, treat, cure or prevent any disease. Please consult your healthcare physician if you are pregnant or nursing. When trying a new skincare product, it is important to remember that each person reacts differently and can experience different results. Always patch test a small area of your skin before applying a new-to-you product all over. If any irritation occurs discontinue use and contact a medical professional if needed.
---
Soothed skin
My son got a chemical burn a couple of months ago from a supposedly clean diaper brand. This helped soothe his skin and it improved with this a diaper swipe within a couple of hours. Better in a few days. The only other thing we used on it was an HOCl product.
If you're not using RA's tallow whip as a moisturizer, you are missing out!
I bought tallow whip over the winter as an alternative to hand lotion for my dry, cracked hands and WOW. With the first application, my hands went from screaming, red, dry, and itchy to "ahhhh" immediately. The best part is, the tallow absorbs so quickly and doesn't leave behind a slippery film on my hands afterwards, so I can do things like drive without fear of losing grip of the steering wheel. A little also goes a looong way, so I still have plenty to last me through the next winter season. If you're not using RA's tallow whip as a moisturizer, you are missing out!
My face has cleared up!
I always struggle with my face being extremely dry, ever since I started using the whipped tallow my face is never dry. I was worried it would be oily and it isn't! My acne has cleared up and I swear my face is always glowing. I can't wait to get some serum to try!
Tallow whip is EVERYTHING!!!!
The texture is amazing and my goodness how it hydrates is unreal. It's not oily or sticky, it's simply perfection.
Better than other brands
Been using tallow for a while but didn't love the texture. Tried Root Apothecary and it's a game changer. The whip is AMAZING. It goes on so smooth and clean, definitely something I look forward to in my skin car routine. The vanilla smells decadent and the bare is perfect for every day use. Even my boys eagerly reach for "whip" after bath time. Will definitely be ordering more!!