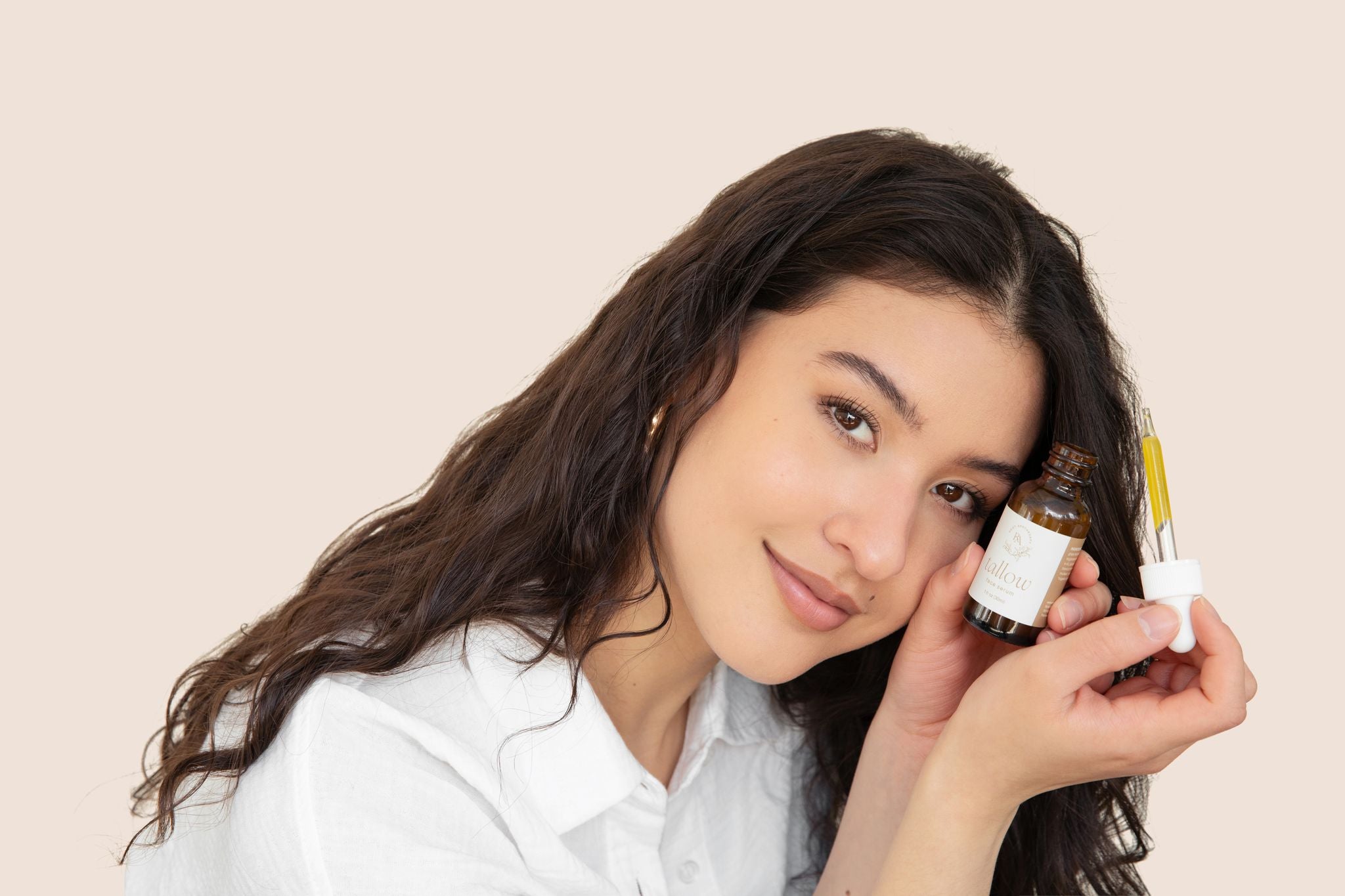 Description

Benefits

Ingredients

Disclaimer
Where the power of nature meets the wisdom of science. Say goodbye to wrinkles and acne and achieve a firmer, more even skin tone. This serum is crafted with meticulous care, formulated to promote collagen production. Embrace skincare that defies the ordinary and the mainstream.

Method: Delicately massage 4-6 drops into clean and dry skin until the serum has been absorbed, leaving a dewy glow. 
This product has been formulated to address multiple skin concerns, so feel free to use it as a moisturizer, primer, redness reducer, or acne serum. You can even use it for scrapes and cuts, rashes, sunburn, and eczema. Some have even used it to reduce the appearance of scarring from surgeries or acne.
97% of customers noticed smoother skin and over 90% noticed improvement in uneven skin tone and pigmentation, making them feel more confident in their skin. Over 80% noticed a decrease in acne and an improvement in dark spots and scarring, and amongst older customers, 78% claimed fewer wrinkles. A skin solution for all ages and skin types.

With 99% noting a visible dewy finish, the glow is indisputable.



grass fed and finished beef tallow, sugarcane squalane*, emu oil, vitamin e oil, jojoba oil* infused with an herbal blend of horsetail*, comfrey*, mullein*, and calendula* *organic ingredient
Statements made on this website have not been evaluated by the Food and Drug Administration.  No product on this website is intended to diagnose, treat, cure or prevent any disease. Please consult your healthcare physician if you are pregnant or nursing. When trying a new skincare product, it is important to remember that each person reacts differently and can experience different results. Always patch test a small area of your skin before applying a new-to-you product all over. If any irritation occurs discontinue use and contact a medical professional if needed.
---
Noticeable change in skin texture
I have been using my tallow face serum since it was delivered two weeks ago. I had dry, almost rough feeling facial skin, specifically my cheeks. Now my skin is softer and is glowing. It feels so good!
Lasts a long time!
I was worried about my skin during my pregnancy and have been using the tallow since about 8 weeks pregnant and my skin has never been more clear! It looks baby smooth even with all the raging hormones! I am so excited to see how my skin changes postpartum with my trusted tallow in hand! And with that, I use it daily and the one jar lasted me all this time (I'm due in 7 weeks). I just stocked up on 2 more so I won't run out post-baby or even have to think about not having it on hand!
Endless Applications
This is my favorite product of all time!! It is a miracle for skincare. I've used it as a daily moisturizer, sunburn care, airbag burn treatment, eczema treatment…. It has endless applications and I just can't live without it!!
I have never FELT this naturally beautiful
My skin has never been so great. I started with the tallow whip and switched to the tallow serum a few months later and both at 100% amazing. I have never FELT this naturally beautiful. I feel confident and my face feels soft. My brother in law even commented on how soft my skin was (weird backstory).
Clear Skin
I love the tallow serum! I use it every morning and every night and have seen my skin clear up so much because of it. I'm noticing less dry patches too. It also smells amazing and feels like velvet on my skin