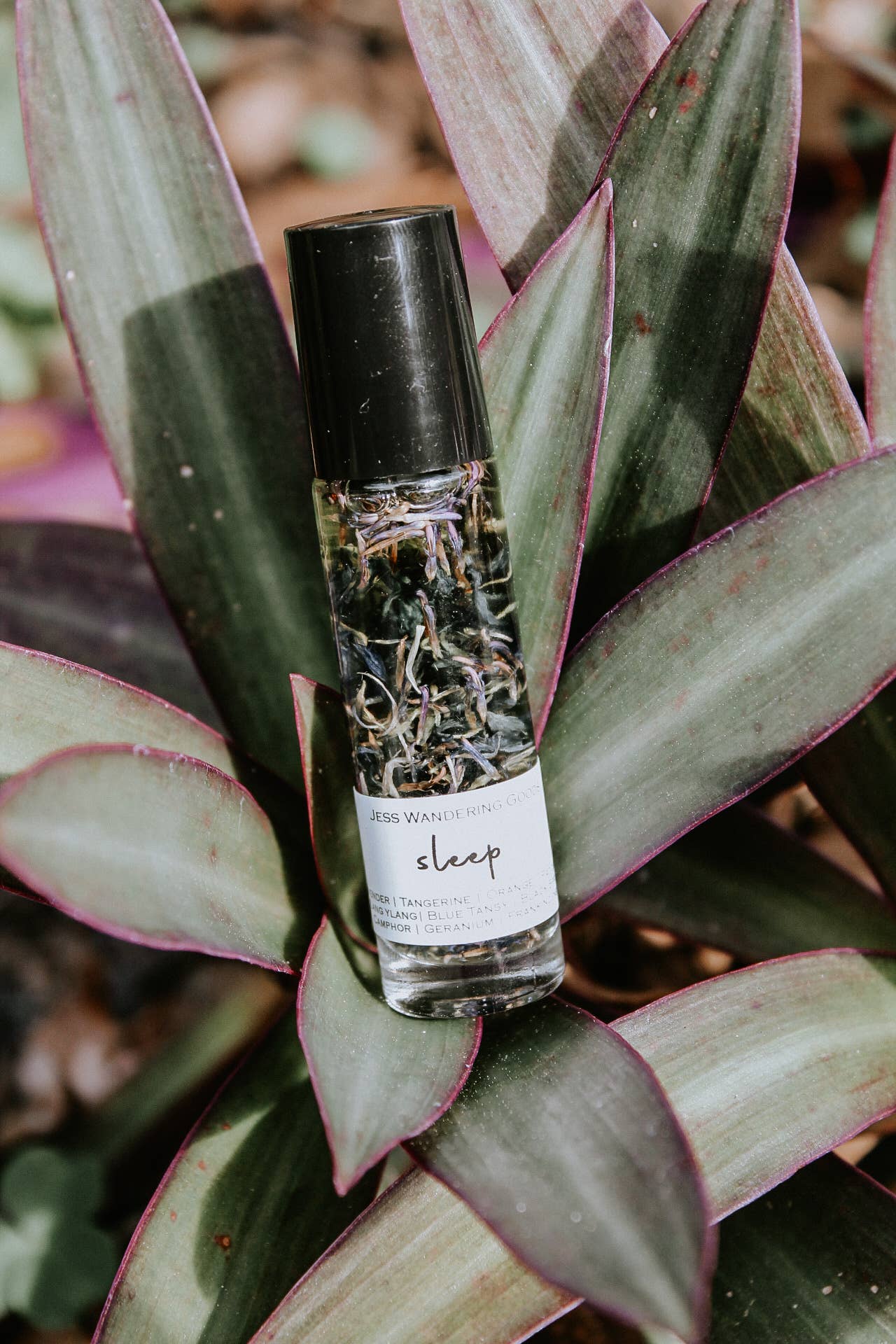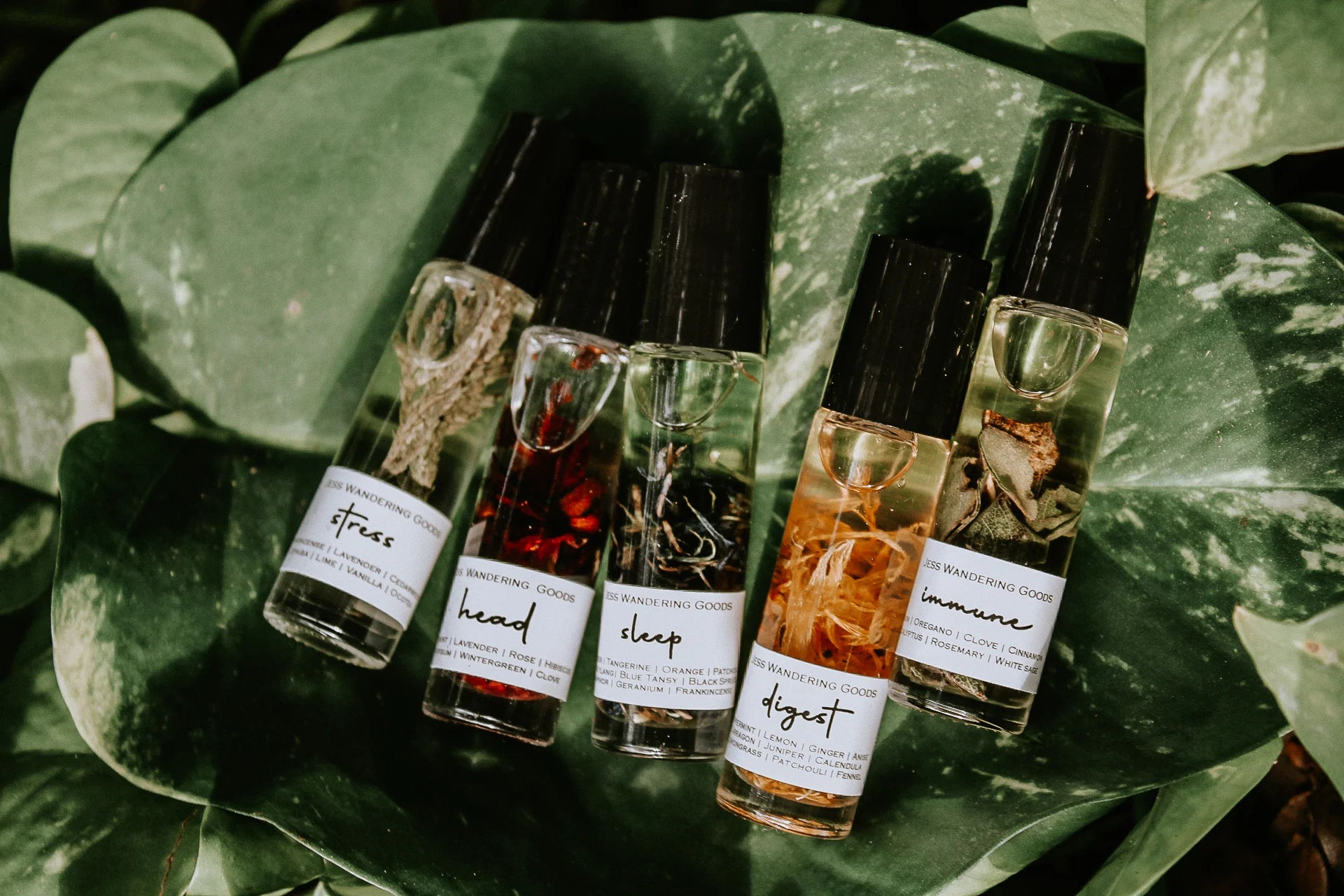 .35oz-10ml | Vegan Friendly | Gluten Free | 100% Natural
Grounding & calming blend to help you fall asleep & stay asleep.
Uses: Apply to neck & soles of feet before bed as part of your nightly ritual
Potential Benefits: Has a sedative effect on nervous system Promotes a healthy sleep pattern Calming effect on the mind, body & spirit Grounding and soothing effect to help prepare for sleep Supports Adrenals Relieves tension and feelings of discomfort
Ingredients 
Organic Lavender Oil | Contains monoterpenes which absorb into the bloodstream, inhibit several neurotransmitters & have a sedative and pain relieving effect throughout the body
Organic Tangerine Oil | soothes the nervous system- works as a relaxing agent. Has sedative qualities that relieve nervousness, anxiety & depression. Promotes a healthy sleeping pattern.
Organic Orange Oil | antidepressant properties, anti-anxiety effect. Typically citrus herbs are known for energizing  but orange can also produce a calming effect & improve sleep quality.
Organic Ylang Ylang Oil | has a sedative like effect on the body and mind-helping to reduce blood pressure, promote calmness, and help you fall asleep faster. 
Organic Patchouli Oil | has a sedative effect- grounding, soothing & peace-inducing, mood harmonizing, and balancing overall. Stimulates the release of serotonin and dopamine- enhancing the feelings of relaxation. Encourages restful sleep.
Organic Blue Tansy Oil | works on the nervous system to enhance relaxation- when emotions are high and thoughts are running wild preventing you from sleeping blue tansy can help with many mental conditions, anything from anxiety, depression, anger and nervousness. It boosts the overall positivity of ones mindset and can help treat insomnia. 
Organic Black Spruce Oil | has calming & sedative effects- helps support the adrenals during times of stress and fatigue.
Organic Camphor Wood Oil | anti-anxiety- reduces nervousness, promotes relaxation, soothes pain and feelings of discomfort & tension. 
Organic Geranium Oil | shown to reduce stress and anxiety-calms the mind and body, helps you fall asleep by creating the right mindset & soothes your thoughts.
Organic Frankincense Oil | grounding herb, helps prepare for sleep, relieves stress, eases anxiety & promotes relaxation. 
Organic Blue Cornflower Petal Infusion | has a calming effect on the nervous system- beneficial to those suffering from anxiety, stress, depression and other disorders. 
Organic Fractionated Coconut Oil | carrier oil used to help properly dilute herbal oils, allowing them to be better absorbed into the skin.  
Disclaimer: These statements have not been evaluated by the Food and Drug Administration. This product is not intended to diagnose, treat, cure, or prevent any disease. Please consult your health care provider if you are pregnant, nursing, or trying to get pregnant. Results may vary.
---
Treat yourself, you deserve it!
Free shipping on orders over $150 (continental US only)
Shipping
Shipping Times
We do our best to get orders out as fast as possible. When extreme order volumes occur, it can take up to 14 days to ship out your order. We realize this is not ideal, and we are working on improving our ship time. Not hiring employees to pack orders is one of the ways we keep our prices low!
Read our shipping policy here.
Order tracking
Once your order is placed you will receive a confirmation email. If you haven't received an email, check your junk mail.
As soon as a label has been created, you will receive a second email with tracking information.
Get in touch
Questions we didn't answer? Cute picture of your dog you want to share? Use the "Chat with us" feature below, or, send us an email at hello@root-apothecary.com