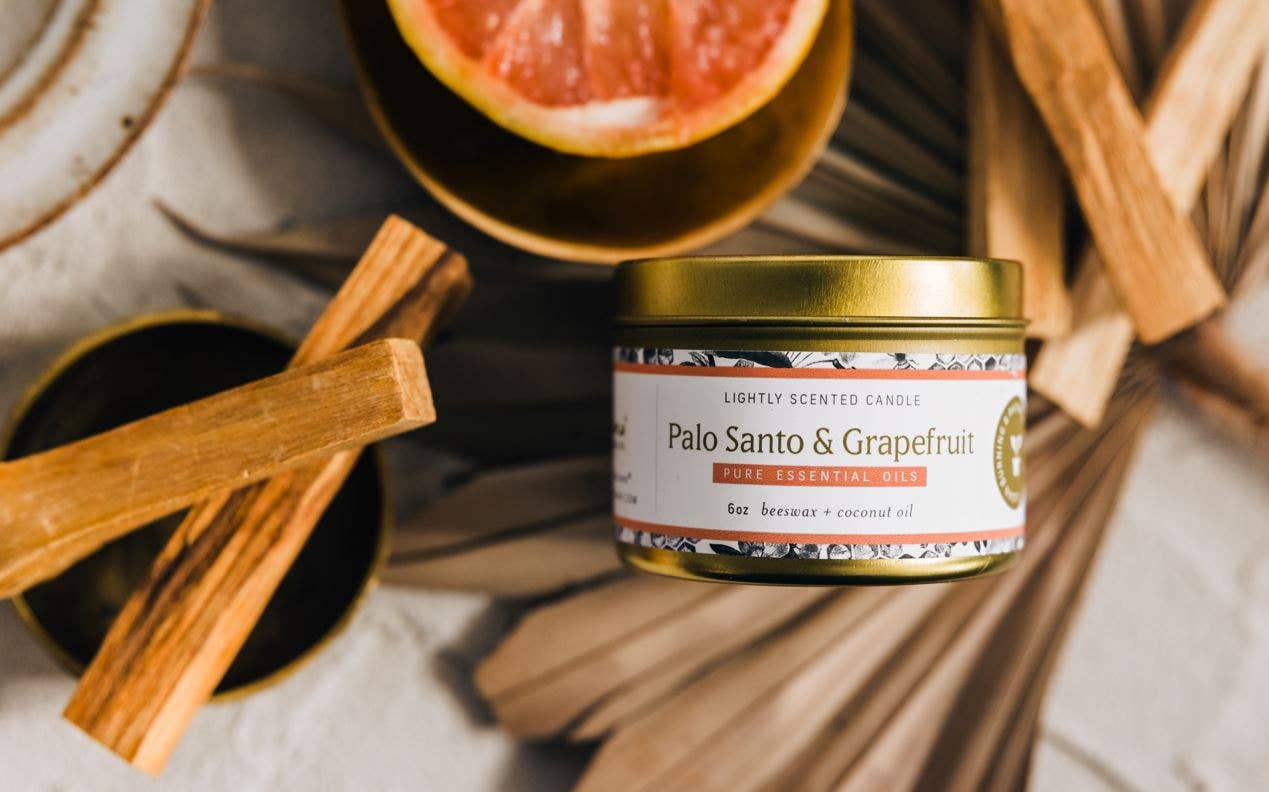 Palo Santo & Pink Grapefruit Essential Oil Candle
Renew & rejuvenate with our best selling Palo Santo & Pink Grapefruit Candle!
Bursera graveolens, or "holy wood" is an aromatic wood that has been valued for its therapeutic properties for centuries. It is harvested from an indigenous tree in arid areas of South America. The tree belongs to the same family as myrrh and frankincense, and ours is sustainably harvested from fallen trees in Peru.
It is believed that when Palo Santo is lit, it eliminates stagnant or negative energies and purifies the space, bringing uplifting positive energies, higher vibrations, and good luck. The soothing aroma of the smoke is often used to give your house a sweet smelling aroma and feel.
Ingredients: Coconut oil, Beeswax, Essential oils of Palo Santo, Pink Grapefruit Peel, and Black Pepper
Burn Time: 20-25 hours
Protect your order from heat: Because there are no stabilizers or preservatives, these candles do not do well in excess heat. We take as many precautions as possible to ensure that your order arrives in tip-top shape in the warmest of weather, and ship with ice packs to areas experiencing hot weather. Please note the ice packs only protect the candles for approximately 24-48 hours. If you are experiencing warm weather where you live, please keep an eye on your tracking number. We highly recommend being home for delivery, or taking your package into a climate controlled area as soon as possible after delivery.
Essential oil candles have a very light scent when burned. Please do not expect it to fill a room with scent.
---
Free shipping on orders over $150 (continental US only)
Palo Santo & Pink Grapefruit Essential Oil Candle
Shipping
Shipping Times
We do our best to get orders out as fast as possible. When extreme order volumes occur, it can take up to 14 days to ship out your order. We realize this is not ideal, and we are working on improving our ship time. Not hiring employees to pack orders is one of the ways we keep our prices low!
Read our shipping policy here.
Order tracking
Once your order is placed you will receive a confirmation email. If you haven't received an email, check your junk mail.
As soon as a label has been created, you will receive a second email with tracking information.
Get in touch
Questions we didn't answer? Cute picture of your dog you want to share? Use the "Chat with us" feature below, or, send us an email at hello@root-apothecary.com