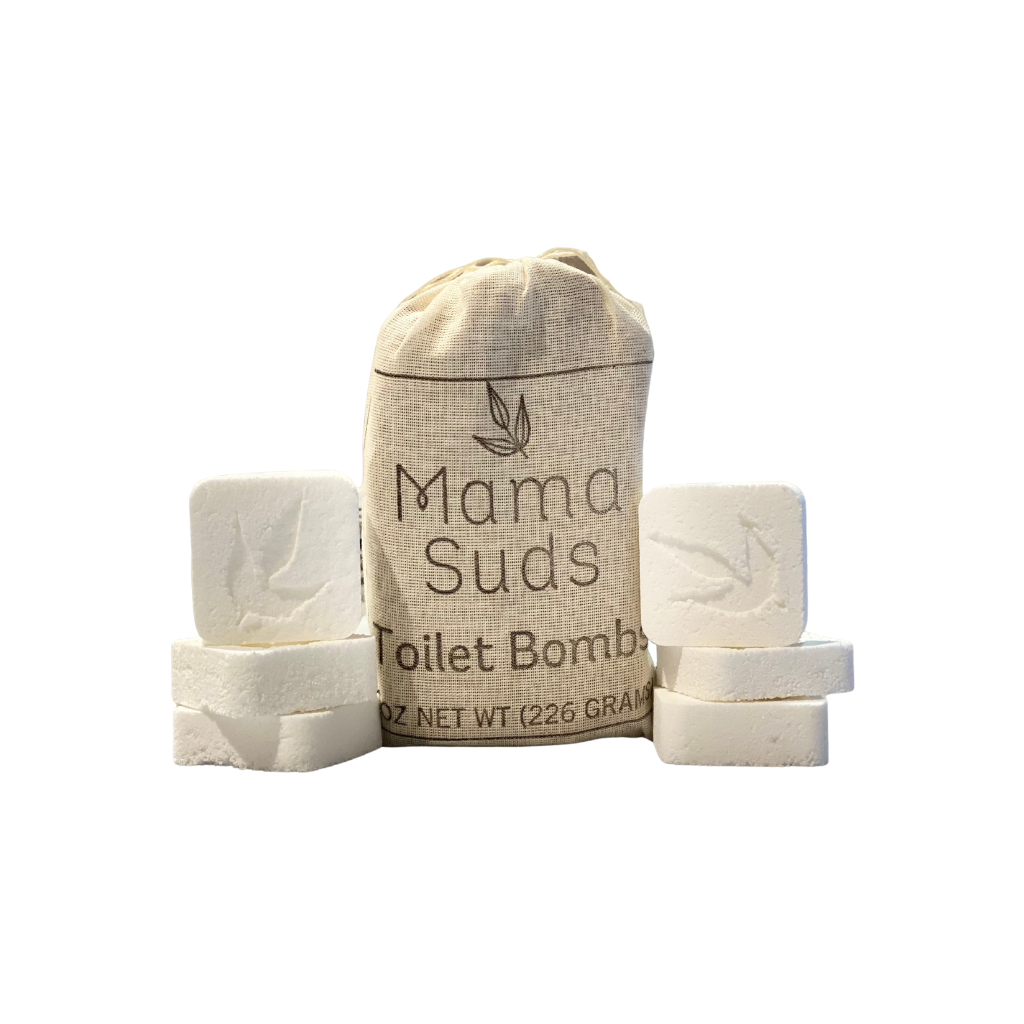 Toilet Bomb Cleaning Tabs
YOU CAN CLEAN AND KILL GERMS WITHOUT TOXIC INGREDIENTS
Plop.

Fizz. 

Scrub.

Flush. 
Cleaning toilets has never been so easy and safe! 
Use: drop 1 tab into the toilet and let it fizz out. Use your toilet brush to scrub the bowl. Flush. Toilet bombs can also be used to clean the inside of the holding tank as well. This is a completely plastic-free product! 
Ingredients are important when cleaning the bathroom. You want it to clean, but you don't want to expose yourself or your family to toxic fumes and endocrine disrupters. Non-GMO Citric Acid is great at lowering the pH of bacteria so you can scrub and flush them away, while our natural baking soda scrubs and deodorizes. 
Other uses:
drop a tab into your diaper pail to help keep it fresh. Diaper pails getting really smelly, and the essential oils do a great job of keeping those smells less overwhelming.  

drop a tab into your washing machine, set it on the lowest load setting, let it fizz out, and wash your washing machine. Yes your washing machine drum can get dirty, we highly recommend you clean the drum when you are switching over to a natural laundry soap (like MamaSuds!).

drop a tab (or 2) into your garbage disposal and run the water. We always drop one into the disposal when we leave on vacation so we don't come home to that dank smell (if you know, you know!)

put a few tabs on a decorative plate in your bathroom and let it deodorize your bathroom. Our Toilet Cleaning tabs smell minty and fresh, which is how we like our bathrooms to smell! 

take it on the go! drop one in the toilet when you are doing your business in a public restroom to mask odors. Don't be embarrassed going number two in public, these are great on the go when you have to go! 
This is my kids' favorite chore: cleaning the toilet! Why? Watching the tabs fizzle out is fun and they love the smell! 
10 Toilet Bomb tabs included in each 5"x7" muslin bag (completely plastic free!)

Ingredients: sodium bicarbonate, non-GMO citric acid*, water, essential oils of tea tree, organic peppermint, and lemon

safe for septic and gray water systems

use within 3 months (they will still clean, but the scent dissipates with time)
---
Free shipping on orders over $150 (continental US only)
Toilet Bomb Cleaning Tabs
Shipping
Shipping Times
We do our best to get orders out as fast as possible. When extreme order volumes occur, it can take up to 14 days to ship out your order. We realize this is not ideal, and we are working on improving our ship time. Not hiring employees to pack orders is one of the ways we keep our prices low!
Read our shipping policy here.
Order tracking
Once your order is placed you will receive a confirmation email. If you haven't received an email, check your junk mail.
As soon as a label has been created, you will receive a second email with tracking information.
Get in touch
Questions we didn't answer? Cute picture of your dog you want to share? Use the "Chat with us" feature below, or, send us an email at hello@root-apothecary.com